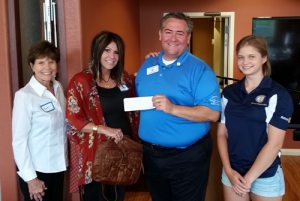 Peaks rotary helps orphanage
Four Peaks Rotarians said "AufWiedersehen" to one of their international exchange students, Frieda, at a recent meeting.
She will soon return home to Potsdam, Germany after spending a year in Fountain Hills attending school and living with Rotary families .
While here, Frieda had the opportunity to travel throughout Arizona and hiked the Grand Canyon.
Other activities included playing on the award-winning Fountain Hills High School women's soccer team and participating in RYLA, the Rotary youth leadership development program.
Special speakers at the Four Peaks meeting were Adonna Cullumber and her daughter Kimberley from Casa Esperanza orphanage in Hermosillo, Mexico.
Four Peaks Rotary has supported the orphanage both financially and through service work for 17 years.
The speakers gave club members an update on developments at Casa Esperanza, including the success stories of two girls who came to the home as young children and have gone on to graduate from college.
They also shared the profiles of several children that members could choose to help financially. The average cost of supporting a child at Casa Esperanza is $275 per month, which includes the cost of meals, medical, school , household supplies and house parents.
Casa Esperanza para Ninos or "House of Hope for Children" was started in 1999 in Hermosillo from a life-long dream of founder Adonna Cullumber.
She had a special passion for the needy, abused and abandoned children of Mexico. Starting with only seven children in a small home, the organization now has a 3.5-acre ranch with more than 30 residents.
For more information or to help support a child, go to www.casaesperanzaparaninos.com.
Four Peaks Rotary meets the second and fourth Thursday of every month from 6:45 to 8 a.m.at Fountain View Village, 16455 E. Avenue of the Fountains.
Guests are invited to join the group for a complimentary breakfast. For more information about the club, go to www.fourpeaksrotary.org or contact membership chairperson Bill Pape at (480) 390-1395 or billpape@cox.net.